the Technology Interface / Fall 1997
---
A PRIMER ON HAND SOLDERING ELECTRICAL CONNECTIONS
---
by
David L. Pippen
dpippen@nmsu.edu
Assistant College Professor
New Mexico State University
ABSTRACT
Hand soldering techniques and various alloys used in the soldering process are discussed. Some guidelines for selecting soldering alloys, characteristics of various solder types, solderable metals, solder selection, the process of producing a good solder joint, and desoldering are discussed. A summary of causes for poor solder connections is given.
WHAT IS SOLDERING?
Soldering is a process by which you can join metal items together by applying heat along with special metallic alloys (solder) and allowing them to cool. This results in a metal bond between the metals that is strong and has good electrical conductivity under harsh mechanical environments.
WHAT IS SOLDER?
Solder is a metal alloy consisting of distinct percentages of two or more metals. In electrical work, the alloy is usually tin (Sn) and lead (Pb). However, Silver (Ag), Zinc (Zn), and Antimony (Sb) are used for special soldering alloys. Solder that uses lead has a lower melting point than pure lead. However, some solders contain no lead.
Each alloy composition has unique characteristics, eg., melting point, hardness, and solid-to-liquid transition properties, and may or may not be eutectic.
A eutectic alloy is a composition of one or more metals that has one sharp melting point and no intermediate "plastic" stage. Non-eutectic compositions have a semi-liquid temperature range where the metal can be "worked" due to its plastic nature.
For example lead has a melting point of 621 OF (327 OC) and tin melts at 450 OF (232 OC). Alloying 63% tin with 37% lead forms a eutectic that melts at 361 OF (183 OC). Note that this particular alloy's melting point is lower than either of the parent metals.
WHAT IS THE IMPORTANCE OF ALLOY TYPE?
Every soldering application requires solder with particular characteristics. Important characteristics include melting temperature, hardness, strength, and ease of bonding the metals being soldered.
Alloys are designed to fulfill particular soldering needs . Examples
Automotive uses such as radiator, body and fender repair. SN30 (30% tin 70% lead) or SN40 (40% tin 70% lead) are generally used. These solders have a wide plastic range which allows the solder to be worked before it solidifies or melts. For example, SN30 becomes completely liquid at 496 OF (258 OC). As temperature is lowered below this point, it becomes plastic and workable until it solidifies at 361 OF (183 OC).
Plumbing - plumbers generally use solid SN50 solder in conjunction with an externally applied flux. This 50% tin 50% lead alloy has a melting point of 414 OF (212 OC) and becomes plastic at 361 OF (183OC). Some city ordinances now prohibit the use of solders that contain lead for use in potable water systems so a non-lead solder is used.



Electrical Connections - The most popular solder alloys used for Electrical connections are SN60 and SN63. The SN63 is eutectic and melts at 361 OF (183 OC); it has no plastic region. SN 60 is more general purpose, is less expensive, and has a very small plastic region (about 8 O F). It also has a low melting point of 361 OF. These alloys allow rapid solder time that can prevent excessive temperature being applied to the component and helps prevent "cold" and "fracture" joints as discussed later.



Common Soldering Alloys - Table 1 provides the melting temperatures of several soldering alloy combinations.



TABLE 1 - Melting Temperatures of Soldering Alloys
Sn = Tin Ag = Silver

Pb = Lead Sb = Antimony

Temperature at which solder becomes plastic
temperature at which solder becomes liquid
%Sn

%Pb

%Ag

%Sb

O

C

OF

OC

O

C
0
100
.
.
.
.
327
.
10
90
.
.
224
435
302
576
38
62
.
.
.183
361
242
468
48
52
.
.
183
361
218
424
60
40
.
.
183
361
188
370
63
37
.
.
Eutectic
.
183
361
100
0
.
.
.
.
232
450
95
.
.
5
232
450
238
460
35
63
.
2
187
369
237
459
27
70
3
.
179
354
312
594
40
57
3
.
179
354
312
594
62.5
36.1
1.5
.
Eutectic
.
179
354
96
.
4
.
Eutectic
.
221
430
.
97.5
2.5
.
Eutectic
.
305
581
.075
97.5
1.75
.
Eutectic
.
310
590
WHAT IS THE PURPOSE OF FLUX?
Flux is a chemical cleaner which removes oxidation from metal surfaces so that a good solder-to-metal bond can be made.
Flux must be applied to the surfaces at the bond point before soldering can be successfully accomplished because copper and other materials rapidly oxidize upon exposure to air , moisture, and heat. This oxidation is caused by exposure to the oxygen in air/moisture and forms a non-conductive, non-solderable surface on the metal. On copper surfaces, oxidation causes the bright shiny copper color of the non-oxidized surface to appear a dull, orange color.



Flux comes in many grades. However, there are two general types: non-corrosive and non-conductive (milder rosin types); and corrosive and conductive (very strong acid types).
IMPORTANT: NEVER USE CORROSIVE AND/OR CONDUCTIVE FLUXES TO SOLDER ELECTRONIC COMPONENTS.
Solder can be manufactured with or without a core of flux.
o "Solid" solder has no core of flux. It is available in wire, bar, and other forms. An external flux (usually liquid or paste) must be applied when soldering with these non-flux solders. The flux is applied to the joint before the joint is heated. Many of the fluxes are heat activated, meaning they do not remove the oxide layer except while hot. Thus, the flux residue does not continue to act once it cools and it is often not removed once the soldering has taken place. However, some fluxes become tacky once they cool and thus can capture dirt and contamination. In time, the normally high resistance cold flux that may exist between solder points can develop into low resistance bridges causing circuit malfuntion. This type flux should be removed once the soldering is complete. Commercial flux removers are available. Isopropyl alcohol is often used.
o "Flux core" solder is usually in wire form. The center of the wire is filled during manufacturing with the proper amount of flux required for soldering. Generally, no additional flux is required when soldering with the flux core solders. The surfaces to be soldered should not be visibly oxidized when soldering with these fluxes. Fine grade steel wool or sandpaper are sometimes used to "polish" the surfaces prior to soldering.
WHAT METALS CAN BE SOLDERED?
Copper is readily soldered - Also, through chemical action, copper dissolves in the solder to form an excellent bond.
Beryllium copper, brass, and bronze are solderable, but not as easy as copper.
Kovar and mild steel are solderable but with some difficulty.
Chromium and stainless steel are extremely difficult to solder.
Aluminum can be soldered using special fluxes and cleaning procedures. Aluminum can have joints that look good (shiny and smooth), but actually be poor structurally and have poor adherance.
WHAT IS THE SOLDERING PROCEDURE?
1. Use the right tools
Wattage - 15 watts can be used for very small components and pads. 30 - 50 watts for larger components. Controlled heat irons are the best, but good results can be obtained from the inexpensive fixed temperature irons that have the proper tip wattage.
Larger irons and "guns" should not be used except to solder very large components. Do not use these high power instruments on electronic assemblies or printed circuit boards.
Soldering Iron Tip - The tip should be small enough so that the joint being soldered can be easily seen, but large enough to quickly transfer the heat required to raise the joint temperature to the solder melting point. The author prefers a chisel (spade) tip that is between 0.05" and 0.08" across the spade for general purpose soldering. Smaller tips are required for small pads and surface mount components. The larger tip provides more heat which is required for desoldering using desoldering braid or solder pump.
Do not use acid core solder, corrosive fluxes, or conductive fluxes on electronic equipment. Use mild fluxes such as contained in rosin core solder or rosin flux.
Use the correct alloy. SN63 is excellent for small, heat sensitive components and printed circuit board pads. SN60 is an inexpensive excellent all-around solder. Both are available with flux cores (usually rosin). Some fluxes are sticky once activated by heat and thus should be cleaned off the board once soldering is completed since they will accumulate dust/contaminants that may cause an unwanted short or low resistance path at a later time.
Use the correct diameter of solder especially for small component attach points. (Author's opinions below)
0.020" dia. (25 gauge/.05 cm) rosin core or smaller - Very small. Excellent for soldering very small printed circuit (PCB) board pads and hand soldering surface mount components. Too small for a general purpose bench solder. It can take excessive heating time to apply sufficient solder to larger joints. The author has a small roll of 0.15 dia. solder on his bench but uses it very infrequently.
0.031" dia.(21 gauge/.079 cm) rosin core - An excellent all around solder for printed circuit boards and general kit building/electronic repair. Inexperienced users may have some difficulty from forming solder bridges between pads on junctions spaced 0.1" or less such as PCB integrated circuit pads. This is the author's favorite size and is plentiful in his shop.
0.040" dia. (19 gauge/0.1 cm) rosin core - Good for larger connections like tinning or connecting 14 gauge or larger wires to terminal strips, connecting multiwires. Not good for PCB soldering because excessive solder can be easily applied to pads increasing potential for undesired solder bridges between points. The author has it available on his bench, but hardly ever uses it.
Larger diameter solder should be reserved for soldering large items like very large stranded wires, soldering large items to aluminum chassis, etc. The largest the author has is 0.047" dia. and he has never needed anything larger for electronics projects. It is very seldom used.
Side-cutters or "dikes" - Miniature side-cutters with spring to hold the jaws open are ideal. The author prefers 5 - 51/2-inch for small wires and 6-inch or greater for the larger wires. Most of the small cutters are for soft wire and can be damaged cutting hard wires such as aluminum, iron or steel.
Medium long-nose pliers - The same length as the side-cutters work fine. The pliers should have round points so that component leads can be formed around them when necessary. A pliar with 4" or longer nose is very useful for many hard-to-reach applications.



Desoldering equipment - A roll of desoldering braid and a vacuum desoldering tool will cover most desoldering requirements. The desoldering pump is best for removing large amounts of solder, and the braid for removing small amounts and cleaning up solder holes in PCB's. The author often uses a pin vise with a #65 drill bit to clean solder pad holes.
Sponge - A damp sponge is very useful to keep the soldering tip free from excess solder and contamination. Special solder tip cleaning pastes are also available and do a good job of removing oxidized material from soldering iron tips.
Wire brush - A wire brush is useful to remove oxidation that may coat the soldering tip after prolonged service. Be sure and tin the tip immediately after brushing. Steel wool can also be used to clean the tip as well as tarnished/contaminated component leads and surfaces to be soldered.



2. PREPARE THE SURFACES TO BE SOLDERED


PCB's and surfaces. A thin film of oxide forms on bare copper that will be detected as surface dullness and darkening of the copper. Thus, if bare copper is to be soldered, it is very important to clean it with fine (0000) steel wool or equivalent. The surface should be bright and shiny.



Tinned surfaces do not normally need to be cleaned with steel wool, but all contamination like dirt, oil, etc., must be removed. Rubbing alcohol or detergent and water (if no components have been mounted) are good liquids to use.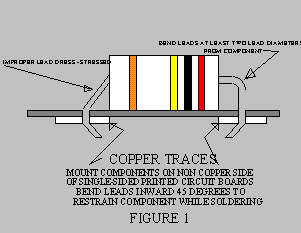 Use steel wool or fine sandpaper to clean leads of components stored for long periods. Some components, especially old resistors and capacitors, will have tinned leads that look dull rather than shiny. It is a good idea to use steel wool to clean them before soldering.



3. MOUNTING THE COMPONENTS ON A PCB
Mount components on non-foil side with leads protruding through the board to the copper side.
Place components against the board.
Extend leads from component so that they are stress relieved (see Figure 1). Bends should be at least two lead diameters from the component. Minimum inside radius of the bend should be equal to a lead diameter. Part identification should be visible with the part in place.
4. PREPARING THE SOLDERING IRON TIP BEFORE SOLDERING
The solder tip must be applied to the joint at such an angle that the point of contact can be observed during the soldering process. This is generally at about a 45O angle.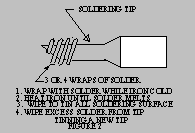 The soldering tip must be clean and freshly tinned before soldering.
It is extremely important that a new, never been heated tip be tinned immediately upon it reaching the temperature that melts solder. Tinning is accomplished by applying fresh solder and flux to the tip and allowing all soldering surfaces to become coated with solder. If tinning is not done, then the tip will become oxidized and it will be impossible to solder a good joint. This oxidization is often difficult, if not impossible to remove. Copper tips (copper color) can be filed, but do not file a tip that has been plated (silver color). The tip should be allowed to cool and then brushed vigorously with a wire brush until the dark black/brown oxidized material is removed. Sandpaper or a fine file may be used to assist in this process. Then reheat and tin as stated above. Plated tips should not be filed or sanded.
If the tip has already been tinned and has no oxidation, then clean the tip by wiping on a damp sponge or other suitable material before each connection is made.
Place a very small globule of fresh flux-core solder on the tip surface that will be used as the point of contact with the parts to be soldered.
5. APPLY THE CORRECT AMOUNT OF HEAT AND SOLDER
The soldering iron tip should be applied firmly to the metal part having the greatest mass while also touching the part to be soldered to it.
Apply heat until both the parts to be joined are sufficiently hot to melt the solder.
Quickly apply solder adjacent to the tip, but not on the tip (Refer to Figure 5). The solder should flow quickly around the components. Withdraw the tip as soon as the joint is complete to avoid overheating the molten solder. The soldering process should be completed within 2 seconds. If it takes up to 5 seconds then the tip is too small, the iron too small, or the technique incorrect. The soldering tip should be at a temperature of about 650O F (343 OC ).
The surface temperature of both metals being soldered must be above the solder melting point to expedite efficient wetting. Solder should not be permitted to flow onto a surface cooler than the solder temperature; this will cause "cold" joints.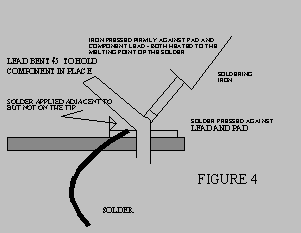 Properly applied solder will melt and flow smoothly around the surfaces being soldered producing a smooth, shiny surface feathering out to a smooth thin edge.
A rounded, lumpy, dull, irregular, or granular appearance indicates improper solder application.
6. DO NOT ALLOW JOINT TO MOVE
Once the joint is soldered, it is imperative that none of the soldered parts be allowed to move until the solder solidifies.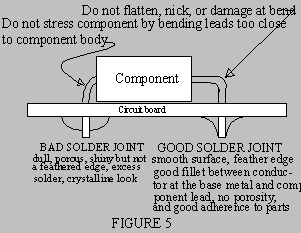 Premature movement will cause the solder to fracture at the component to solder interface, thereby producing a "fractured" joint. These joints can be expected to fail later while in service.
7. FINISHING THE SOLDERED JOINT
Cut off excess leads (Refer to Figure 6). Do not clip into the feathered solder edge. Leave a slight headroom so that the solder is not separated from the lead by the shock forces imparted during cutting.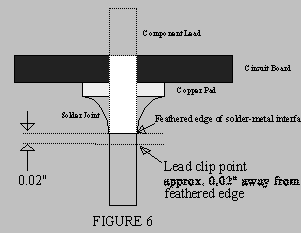 Clean soldered board board with flux remover or alcohol after all joints have been soldered and leads clipped. This may not be necessary with some fluxes.
8. THINGS THAT MAKE A BAD SOLDER JOINT
Excessive solder applied to joints pose the possibility of unwanted solder bridges between adjacent joints.
Applying too little solder allows low joint strength. Solder should completely fill printed circuit board pads all around the component lead being soldered.
Moving the joint before the solder solidifies will create a "fractured" joint. The solder to metal bond is fractured just before solidification of the solder. This failure may not be detected for years. This joint often looks non shiney and grainy, especially at the interface.
Applying too little heat will cause a "cold" solder joint. This joint may adhere for a while, but can be expected to fail in time. This joint likely does not have feathered edges where it interfaces with the pad and with the lead. It is generally has a solder globule appearance rather than with feathered edges. It may be shiney.
Applying too much heat to the tip will accelerate oxidation of the tip and cause the solder to "roll" off it rather than wet it. A non wetted/tinned soldering tip will cause excessive heat application time to circuit board pad and component. Pads can even unadhere to the circuit board if too much heat is applied.
Soldering a contaminated board or one with excessive oxide will produce a non-functioning joint. The solder will tend to roll off the joint rather than bond.
Soldering with no flux or too little flux will produce a non acceptable solder joint Solder will often ball up and be globular in appearance.
Soldering electronic parts with acid core solder, corrosive flux, or conductive flux.
DESOLDERING
1. Many times, soldered components or wires must be removed.
2. There are at least two good ways to desolder components. One is by using a desoldering pump and the other is by using a desoldering braid.
3. The desoldering tool is applied to a joint that has been heated to the solder's melting point. A plunger is activated which "sucks" the solder into the tool's reservoir. If done properly, this method can remove solder to the point that the component leads can be lifted away from the metal to which they were joined.
4. If the joint does not have too much solder, then desoldering braid can be used to remove the solder. This braid consists of copper braid impregnated with non-corrosive flux. The braid is laid on top of the solder joint to be desoldered and the hot soldering tip applied to the braid. Solder will flow towards the heat of the tip and away from the joint.
5. A good method of desoldering involves both of the above methods. Most of the solder can be removed with the desoldering pump and any remaining with desoldering braid.
6. Desoldering irons are also available. These irons have vacuum devices attached to them. The iron melts the solder and then the vacuum is energized which sucks the molten solder into a reservoir for disposal.